Why worry about finding the best teachers for yourself or your child when you can get the help of Egyptian teachers with just one click?
Egypt, a center of masters of recitation, is home to many best Egyptian Quran reciters who are known for their beautiful and heart-touching recitations, such as Qari Siddique Ahmed Minshawi and Qari Abdul Basit.
Egyptian Quran teacher online are globally renowned for their expertise in Quran recitation, beautiful Qirat, and excellent teaching skills. Ehsan Academy is widely recognized as a leading institute that has helped thousands of Muslims find the best online Egyptian teachers.
Ehsan Academy has a team of native Arabic Egyptian teachers who are qualified from world-renowned universities like Al-Azhar University. They possess extensive experience and are specifically trained to help you efficiently learn the Quran in the shortest period of time, using advanced methods.
Regardless of your age, gender, or nationality, we warmly welcome you to become a part of the Ehsan Academy family and connect with your Islamic roots."
Online Egyptian Quran Teaching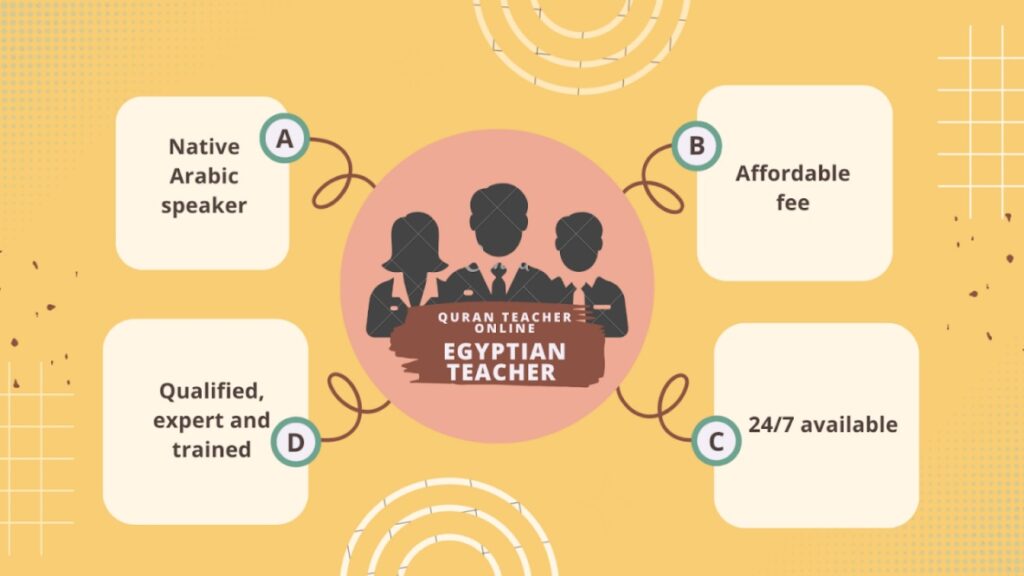 Quran recitation is a beautiful practice that deepens your connection with Almighty Allah. If you aspire to learn Quran recitation or memorize either the complete Quran or a portion of it, Ehsan Academy has everything you need.
Ehsan Academy offers you a golden opportunity to learn and recite the Quran in a beautiful Arabic accent with the guidance of the Egyptian language of Quran teachers, all from the comfort of your own home and with a flexible schedule that suits your busy routine.
Egyptian Arabic and the noble Quran teacher online are highly regarded for their expertise in Arabic and Quranic Tajweed. Their experience and teaching skills in assisting both children and adults in learning the Quran make them an ideal choice for every Muslim who yearns to memorize, recite, or comprehend the Holy Quran.
Feel free to join Ehsan Academy and embark on this rewarding journey of Quranic education and spiritual growth.
Qualities of Egyptian Online Quran Teachers at Ehsan Academy
1. Highly Qualified and Experienced Egyptian Teachers
Qualification and experience are essential qualities to consider when choosing Quran teacher online. Our Egyptian Quran teachers at Ehsan Academy possess a strong command of teaching Arabic grammar, the Arabic language, classical and modern Arabic Quran recitation, Tafsir, and Quran memorization.
At Ehsan Academy, eligible and certified teachers undergo a rigorous selection process to become part of our academy. We provide excellent training to our Quran teachers to enhance their teaching skills. We never compromise on the quality of the classes we deliver to our students.
Our teachers have extensive experience in helping thousands of Muslims excel in Quranic, Arabic, and Islamic subjects, regardless of their age or gender
2. Excellent Online Tajweed Teacher and Reciter
There is immense beauty in hearing the melodious recitation of a Qari. It brings peace and draws you closer to Allah. Even the angels love listening to the beautiful recitation offered for the sake of Allah.
Every aspiring Hafiz or Qari wishes to recite the Holy Quran in the most beautiful manner, bringing peace to themselves, their families, and anyone listening to them. We understand the value of expert quran teacher online who possess excellent Tajweed and recitation skills.
Our Quran recitation tutors in Egypt not only have a strong grasp of Tajweed but also possess remarkable recitation skills. This is because we aim to help you master Tajweed and Quran recitation with ease.
3. Expert and Trained Egyptian Teachers
We recognize that students come from different cultures, and backgrounds, and possess unique mindsets. Each student is different, and a single teaching style cannot fit all students.
At Ehsan Academy, training programs for Egyptian teachers are conducted regularly to keep them updated with the latest teaching methods, ensuring that learning is a joyful and great experience for both kids and adults.
Our online Quran tutors adopt different methods based on the student's needs to help them absorb maximum knowledge from the classes.
4. Punctual Egyptian Tutor
Efficient time management and punctuality are crucial skills we expect from our teachers. We ensure that our Egyptian Quran teacher online follow their schedules and do not make you wait to start the class. They also facilitate class rearrangements according to your convenience if you happen to miss a class. Similarly, we expect all our students to cooperate with teachers and attend their classes on time to maximize the benefits.
5. Respectful and Patient
We believe that both children and adults learn best in a respectful and friendly environment. Many students hesitate to enroll in any course because they find it challenging to start learning something completely unfamiliar.
Non-native Arabic speakers, especially those living in non-Muslim countries, may find it difficult to learn the Quran or Islam. Ehsan Academy understands your struggles and helps you become proficient in Islamic studies, the Quran, and the Arabic language.
We ensure that our teachers give their best, practice patience, and show equal respect to all students and their parents, helping them start learning from the beginner stage and progress to the advanced stage.
Conclusion
If you wish to study the Quran online in Egypt while staying at home, you can enroll in our online Quran recitation or Quran memorization courses. We offer a variety of courses to cater to the diverse needs of Muslims worldwide.
Ehsan Academy has a team of expert Egyptian Quran teacher online. Our teachers are highly qualified, certified, and experienced, possess excellent teaching and recitation skills, and are trained, punctual, patient, and respectful.
We provide excellent facilities to all students, ensuring they can learn arabic Quran in the shortest possible time without worrying about high fees. We pride ourselves on having the best online Quran teaching system. Enroll now and join our exceptional Quran classes online.
Seize the opportunity! Join our online Quran academy led by expert Egyptian teachers. Become a part of Ehsan Academy and embark on a beautiful journey towards the Quran, Allah, the true path, the love of the beloved Prophet Muhammad (peace be upon him), and success in this world and the hereafter. Don't miss out, start your transformative journey now!