Are you seeking to Learn Quran for Beginners guidance on how to study the Quran easily or how to start learning the Quran?
The desire to establish a strong connection with the Holy Quran resides in the heart of every Muslim. Some aspire to achieve expertise in Quranic recitation, others aim to memorize it, and easy way to learn Quran translation with teachings. Regardless of the specific goal, the intention remains the same – to foster a deep bond with Almighty Allah.
Embarking on the journey of learning the Quran is a noble pursuit that has the potential to transform your life and shape your identity as a devoted Muslim. However, many individuals encounter difficulties when initiating this journey, often due to a lack of knowledge regarding trustworthy resources to help them master the Quran.
Fortunately, finding the best resources for learning to read Quran for adults has become more accessible than ever before. In this article, you'll discover valuable guidance, practical tips, and an easy way to begin your Quranic learning journey. Stay with us until the end to unlock the secrets of easy ways to learn Quran for beginners.
Get started with the help of almighty Allah.
How can I learn the Quran? How to learn Quran for beginners? These are some of the most frequently asked questions that I have heard from many Muslim brothers and sisters.
Allah has made the Quran the ultimate source of guidance for every human being until the end of the world. It has been made accessible to those who seek understanding and strive to apply its teachings in their daily lives.
If you share this wish, rest assured that it is also within your reach, as the Creator has eased the difficulty of learning the Quran for all human beings.
Do not hesitate; take your first step. Just like you didn't know how to read the English alphabet when you were born, but learned it because you found it essential for leading a normal life.
Learning the Quran is of utmost importance and is an obligatory duty for all Muslims. Believe in yourself, believe in Allah, and embark on this journey.
Get started with the help of Almighty Allah. Seek His guidance, make supplications, purify your intentions, and communicate with Allah that you are embarking on this journey solely for His sake.
Choose the Right Resource and Guidance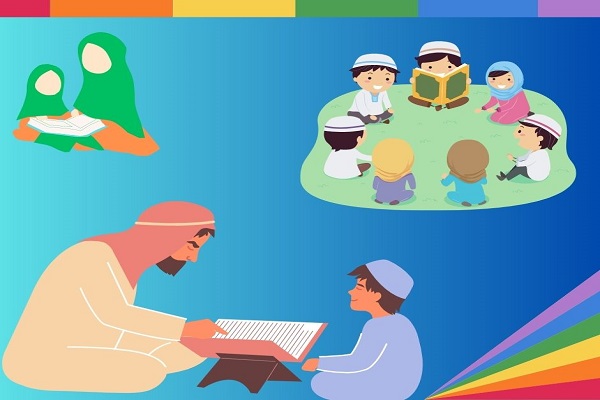 In this digital age, there are numerous online resources and guidance available, each claiming to be the best for your Quranic learning. However, it's important not to be misled by these claims.
Learn Quran for beginners is an enriching journey that provides a strong foundation in understanding the teachings and principles of Islam. Selecting the right resources and guidance, such as an online academy and teacher, is crucial when starting your journey. Look for the best academy that can help you achieve optimal results.
Explore different Quran academies, assess their teaching methods, and consider online platforms that offer comprehensive learning programs. Some academies even provide free trial classes for you to experience their teaching style. Take advantage of these opportunities and choose qualified and experienced tutors who can provide personalized instruction and support.
Establish a Structured Learning Routine:
You need to become responsible and establish a structured learning routine that suits your schedule and is easy to follow. Be kind to yourself and create realistic goals for each week that you can easily adhere to. Set aside specific time slots for Quran study and practice regularly.
The journey to learn Quran for beginners can find comfort in knowing that there are numerous online resources, qualified teachers, and supportive communities available to guide them every step of the way. Seek guidance from your teachers; some academies even offer customized study plans tailored to your requirements. Opting for a personalized study plan can accelerate your progress on this journey.
Develop Quran Reading Skills
To begin learning the Quran, it is important to start with the Arabic alphabet and pronunciation. A highly recommended course for beginners is the Noorani Qaida, which is designed to make Quran learning easier for all students. This course focuses on introducing Arabic alphabets and improving Tajweed rules, enabling you to read the Quran efficiently without errors or mistakes.
Mastering the basics of Tajweed, which are the rules of Quranic recitation, is essential. Regular practice is crucial to enhance your reading proficiency. Patience and consistency are key to developing strong Quran reading online skills.
Apply Tajweed Principles:
The key to learning the Quran accurately lies in practicing Tajweed's rules rather than simply memorizing them. Tajweed science ensures that correct pronunciation and articulation are followed when reciting the Holy Quran.
Seek guidance from your teachers and ask questions during class to clarify any doubts. Engage in various activities and Tajweed exercises that improve your recitation skills and make the learning process joyful for you.
Embrace Patience and Persistence:
Patience and persistence should be your closest companions as you embark on the journey of learning the Holy Quran. Mastering the recitation cannot be achieved in a single day or month; it requires time and consistent effort.
Your dedication and commitment matter the most Keep in mind that the more challenging the journey, the more rewarding it becomes. The more you strive to learn Allah's book, the closer you come to Allah SWT.
Face challenges and setbacks with determination and perseverance. Celebrate small achievements along the way, as each step brings you nearer to your goal.
Research Quranic Meanings:
To get the most out of the Quran, it's important to understand its meanings. Start by learning simple Quranic words and explore translations and explanations to understand the messages and lessons in the verses. Take time to think about the teachings and try to apply them in your everyday life.
Get Enrolled in Ehsan Academy Online Quran Courses for Beginners:
Leave everything to Ehsan Academy. We have a team of expert tutors who offer one-on-one Zoom classes, personalized study plans, joyful learning, a friendly environment, and much more. Our courses are specially designed by experts to cater to students of all ages, genders, and nationalities.
We deeply appreciate the hard work our students and teachers put into the course Learn Quran for Beginners, and we are available 24/7 to assist you on your beautiful journey. Join our free trial classes to experience firsthand what we have to offer. Take advantage of this opportunity and start your journey without any hesitation.
Conclusion:
Learning the Quran Karim as a beginner may seem hard at first, but with the help of Allah, good teachers, your dedication, and patience, it will become rewarding and enriching for you. Trust in Allah, start your journey with His guidance, choose the right learning materials, and seek help when you need it. By staying patient and persistent, you will discover the wisdom and blessings of the Quran in your life.