Quran Hifz Program for adults and kids
Quran Memorization should be one of our main goals in life. Indeed, it not only has innumerable benefits in this life and after and it is also a way to get closer to Allah. Our best online Hifz program will help you achieve your goal most simply!                                       
So, Do you also wish to learn the Quran by heart but don't know where to begin? Are you looking for an easy way to find an online Hifz program and learn Quran for beginners?  Want your children to memorize the Quran but are unable to locate the best online Quran academy?            
Ehsan Academy has resolved all your worries! It is one of the best Quran Memorization schools online to learn Tajweed online, learn Quran recitation online, or have any other aspirations to become a Hafiz. Your journey towards memorizing the Quran begins with our online Quran Memorization program. It is a specially designed course that benefits everyone around the globe. Also, it is customizable!
What is Quran memorization Online Course?
The Best online Quran classes for adults and kids are specially designed so that they can memorize the entire Quran or just a portion of it efficiently. Male and female students can reach the Perfection Level in Quran Memorization through our exclusive 1-on-1 Online Hifz Classes with our Ijazah-holding tutors. This Quran Memorization plan is beneficial for everyone.                                                                                                                     
You can memorize:
The whole of the Quran
Few Juz of the Quran such as Juz 27-30 (Juz Amma or Juz Tabarak)
Or few Surahs of the Quran such as Surah Al-Baqara, Surah Al-Kahf, Surah Ya-Seen, etc
Quran Memorization schedule
Schedule as per 5 classes per week to Memorize the whole Quran:
| | |
| --- | --- |
| Number of pages per class | Estimated Duration |
| 1 page | 30 months |
| 2 pages | 15 months |
| 3 pages | 10 months |
Schedule as per 4 classes per week to memorize the whole Quran:
| | |
| --- | --- |
| Number of pages per class | Estimated Duration |
| 1 page | 38 months |
| 2 pages | 20 months |
| 3 pages | 12 months |
Note: The time duration is subject to change in cases of students' absence, shifting of classes, inevitable events, and also students' capacity to learn and memorize the Quran in the hifz Quran program. Ehsan Academy makes sure to evaluate your potential in the FREE TRIAL CLASSES and provide the best customizable Quran Hifz Course plan to our students.

Benefits of Online Quran Memorization classes with us
The Excellent team at Ehsan Academy makes sure that you learn from the best tutors, on your schedule, and in an affordable fee structure!
Quran Hifz program for adults and kids under the guidance of expert Quran tutors online
Ehsan Academy is home to the Best Quran teacher online. Our teachers are highly qualified, and the majority of them hold degrees from Al-Azhar University, one of the most esteemed institutions in the Islamic world. They also possess an Ijazah from accredited Sheikhs and scholars in Egypt. They are fluent English speakers and an expert in helping students memorize the Quran easily.
Hifz Quran online at your convenience
We make sure that your regular schedule goes as smoothly as your Online Quran Hifz Course. Hence, we let you choose the time. You can be comfortably present in your home office and attend lectures from the best tutors. We make sure that:
– Your lessons are planned at your convenience
– You can schedule your classes anytime.
– You can access audio-visual tools, worksheets, presentations, and study material anytime.
– Contact us anytime.
We blend modern as well as conventional ways of teaching in our Quran Hifz program
We all know the old technique of repetition while memorizing anything. But we have made sure to add the correct use of technology to it. Along with conventional ways, we make sure that you learn through videos, audio, and interactive games such as puzzles, quizzes, fill-in-blanks, Quran test, and more! With our Hifz Quran online course, you learn with perfect techniques that let you learn new verses every day along with the revision of already learned lessons.
We make you memorize the Quran through amazing strategies and tactics
Our hifz Quran program includes three tiers of learning methodologies. First, we emphasize learning the previous day's lesson thoroughly. Then, our tutors focus on new lessons that are taught in all possible ways. Then, the last tier consists of learning all the previous lessons cumulatively. This way, we make sure that students retain their lessons for the rest of their lives!
Exclusive one-on-one memorization classes for a better understanding
Hifz Quran online is made easy with personalized attention that makes you memorize the Quran to your full potential. We offer the facility of One to one Quran teacher for adults and kids. This way, even a minute mistake can be detected and corrected under the right guidance. We established one-on-one Online Quran Hifz classes so that our teachers give each student the attention they need, ensuring an engaging, successful, and productive learning experience.
Hifz program for adults and kids with lots of peace and ease!
We create an easy and comfortable learning environment for all our students. Our tutors are very professional and soft-spoken, and they have good experience in removing any kind of anxiety from students' minds. Memorizing Quran online is made easy as they frequently incorporate entertaining methods of teaching, make it interactive, and hold the attention of everyone. We take learning very seriously hence, we make sure that our students and their guardians can evaluate their progress through biweekly tests and reports.
Hifz Quran online at the most affordable price with great enthusiasm
Ehsan Academy leaves no stone unturned in serving our Ummah in the best possible way. We not only have the most affordable price for our Quran Memorization course online classes but we also boost the spirit of our esteemed students in many ways. We celebrate their accomplishments by providing Hifz certificates and virtual badges.
Enjoy free classes today under our online Hifz tutors!
We provide two free trial Classes for everyone. These classes not only help you in knowing the course structure, and your tutors but also let you get an understanding of our academy. You can request a change of your teacher in your Free Quran Memorization course and also anytime during the course!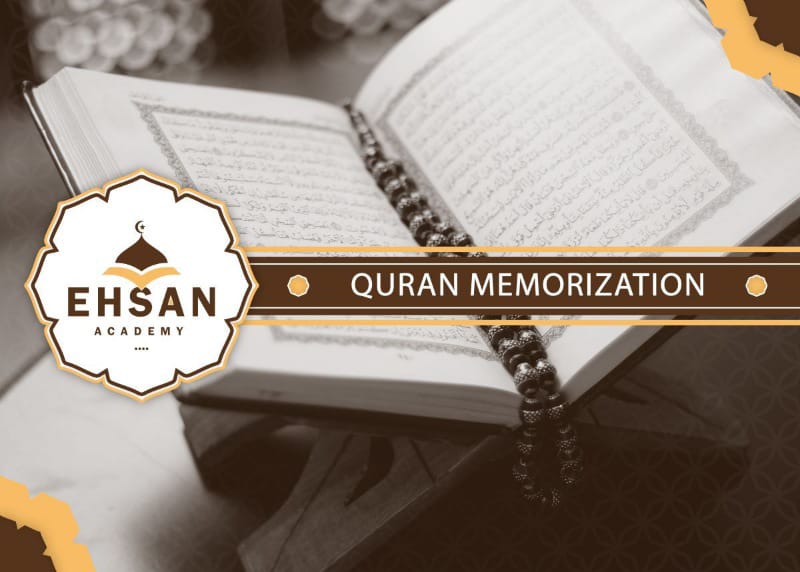 Importance of Online hifz Quran course
There are many hadith that mention the importance of Quran Memorization and Recitation. Hence, this Online hifdh program will help you:
Achieve closeness to Allah as we People of Allah are People of the Quran!
This course sets a disciplined learning of the Quran in our lives which are many times not possible if we try to do it on our own.
We can accomplish our goal of Memorizing the Quran and also earn great rewards by teaching it to others after gaining Ijazah
It is a great way to seek guidance and enhance our personality.
Quran hifz online course helps us in being the best of people!
Narrated `Uthman:
The Prophet (ﷺ) said, "The best among you (Muslims) are those who learn the Qur'an and teach it." (Sahih al-Bukhari 5027)

What we will learn in the Online Quran hifz course:
Hifz Quran program covers:
– Complete Quran Memorization
– Specific juz Quran Memorization
– All or a few Surahs of the Quran
– Ability to Recite the Quran when desired
– Ability to teach the Quran to others
– Ability to recite the Quran while understanding its essence
– Ability to recite the Quran with Tajweed
– Quran recitation in a beautiful voice
– Eligibility to gain Ijazah
There are many Online courses in Memorizing Quran by heart but only the right one can make you earn an Ijazah certificate. Once you have memorized the whole of the Quran or completed your hifz Quran program, our esteemed tutors with Ijazah from the highest sanad in the world will test you. And if you pass the test of recitation, memorization, and Tajweed, you become eligible to gain an Ijazah!
Do not lose heart if you are a beginner. Give a try to our Free online Quran hifz course and see yourself near to your goal in less time!
Ehsan Academy is a perfect Online platform for anyone who is looking to learn Quran Tajweed, Quran recitation with Tajweed classes for adults and kids, Quran Hifz program for adults and kids, Arabic course, or Islamic studies course. We offer excellent facilities like no other Online platform so that you can learn in the highest quality.
Tap now and explore the Free online Quran Hifz course with our expert Hifz teachers!
Q. I want to learn Quran with Tajweed?
One can learn Quran with Tajweed by gaining confidence in the basics. To start with, learning Arabic, Tajweed rules and their application, and reading Quran with patience can help. It is also better to seek professional guidance through the hifz Quran program with native rabic-speaking tutors.
Q. How to learn to recite the Quran?
There are many online and offline resources including books such as Noorania Qaida to learn to recite the Quran. One can also take the help of various applications or enroll in a Quran learning Academy to learn from qualified tutors and Hifz Quran online in a disciplined way.
Q. How to memorize Quran fast and easily?
One should be clear to memorize the Quran. Focus on quality learning instead of learning it quickly. Hence, start with a firm resolution to memorize the Quran.
Learn Arabic and focus on its characteristics
Give time to Tajweed and its application
Try to understand the meaning of the verses
Start with small Surahs. One can also start with Amma juz or the last Paraa of the Quran
Give enough time for revision
Make a routine to memorize a small portion of the Quran every day
Hifz Quran online or offline with a professional teacher to speed up your Memorization effectively.
Q. How to memorize Quran in 6 months?
Memorizing the Quran in 6 months can be challenging if you are just a beginner but always remember that nothing is impossible with Allah's help. So start with a strong intention and make a Dua. Plan out your Quran learning schedule wisely and Memorize all the Surahs from a single Mushaf. Dedicate the time generously and check your progress timely. You can also enroll in an online Quran academy under hifz Quran program and get a customized Study plan to memorize the Quran in 6 months.
Q. How to memorize Quran in 1 year?
Start with making a Quran schedule
Try to keep two slots of Quran Memorization in a day. You can choose a time after Fajr and Asr prayers. Also, you can choose to revise the Quran before sleeping
Keep a day for revision. You can dedicate Sunday to revising what you have learned
Focus on your Tajweed, the meaning of the verses, and learn with concentration
Listen to Quran recitation and imitate them
Join the hifz Quran program for Memorization.