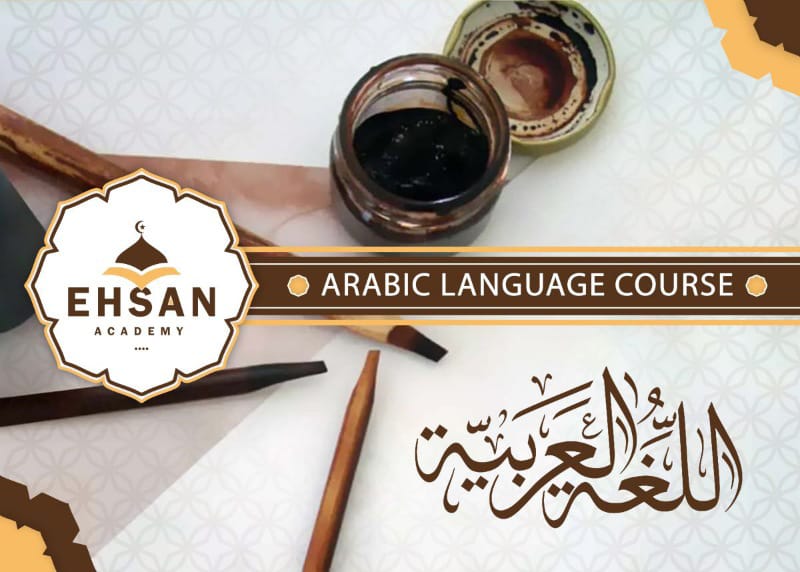 Online Arabic Classes for Kids and Adults
Arabic is the principal language used in the Holy Quran.Also, the Arabic language is used in many Islamic scholarly works, including hadiths and fiqh, making it essential for those pursuing religious studies. While many non-Arabic speaking people desire to understand the Quran or Hadith just by reading it, they might not find the right Arabic tutors for themselves.
Ehsan Academy has devised the Best online Arabic conversation course for all those who want to learn Arabic from anywhere in the world. Also, you can schedule your classes as per your time.
You can learn Quranic Arabic, conversational Arabic, Egyptian Dialect, Arabic grammar, and more in the Arabic class online. So, if you are looking to learn Arabic to understand Quran or Hadith or to learn Arabic to enhance your conversation skill, this course is for you!
Online Arabic conversation course
Learn Arabic with an online Arabic tutor who graduated from Al-Azhar University. Our certified tutors have decades of experience and expertise in teaching adults and kids. We offer various classes of Arabic that are taught with effective methodologies that include audio-visual aids and technology. We offer:
● online Arabic classes for kids
● Quranic Arabic Course
● Modern Standard Arabic course
● online Arabic conversation course
● Arabic Grammar course
Features Of This Course:
Course Type: Online Arabic conversation course with an online Arabic tutor
Class Type: One-on-one and group classes
Class Delivery: Online classes via Zoom or Skype Age: both kids and adults
Quranic Arabic classes for Kids and Adults
This course teaches proper pronunciation, word building, and communication using fun games that enhance skills and intellect, like the memory game, spelling drills, and mental agility assessments. The course includes numerous exercises and stories to enhance children's vocabulary, comprehension, and fluency as well as to support their language development to make learning simple, enjoyable, and interactive.
Learn Arabic Online for kids to build a strong command of this language right from the start. This course covers:
● Introducing the Arabic alphabet, its sound, and recognition
● Basic vocabulary and grammar
● Reading, writing, and understanding
● Basic conversation skills
Kids learn from books such as Noorani Qaida and Noor al bayan to help them understand it better. They are taught by professional and caring tutors who teach them in a fun and easy environment.
Quranic Arabic Language Course
Learn Arabic online to develop a deeper and better understanding of the Quran. The Quranic Arabic is different from modern-day Arabic because of the mixing of cultures and the spread of Islam and the Arabic language to faraway lands. Hence, even when you are well-versed in Arabic, you may need assistance with Quranic Arabic.
Essential topics such as Tajweed, vocabulary, and pronunciation are covered throughout this Arabic conversation course online. Our primary goal is to aid students in gaining a thorough understanding of the Quranic language and the norms that govern it.
Students gain fluency in reading and reciting the Quran with tajweed, understanding its content, and appreciating the linguistic beauty of the book with the aid of interactive and entertaining lectures.
Modern Standard Arabic course
The Arabic language is spoken in its standardized form throughout the Arab world and beyond,
known as Modern Standard Arabic (MSA). Around 420 million people speak it at home, and also it is the official language of 26 nations, including Saudi Arabia, Iraq, Egypt, and Syria.
The MSA language is a descendant of classical Arabic. To adapt to the current world and make room for fresh words and ideas, it has, nonetheless, experienced considerable alterations over time. In official contexts like the media, classrooms, offices of government, and literature, MSA is utilized. As a result of variations in pronunciation, vocabulary, and grammar, speakers of various Arabic dialects can also communicate using this method.
Hence, our classical Arabic course is beneficial to you if you are planning to move to Arab countries. It will give you the same medium to communicate and make your stay easy in Arabic countries.

Arabic Conversation Course
This course includes the Egyptian Dialect. Now, learn Egyptian Arabic online and master the fundamental words, grammar rules, and pronunciation of the Egyptian dialect, as well as typical greetings, idioms, and expressions. Our native Arabic-speaking tutors teach students through entertaining exercises like play conversations and pronunciation drills so that students will also improve their speaking and listening abilities. Students will also learn about Egyptian social conventions, traditions, and etiquette as they increase their awareness of Egyptian culture and improve their ability to converse with native speakers. By the end of the course, you will have developed the confidence necessary to speak Egyptian Arabic fluently and easily!
This online course will cover topics such as the Arabic alphabet, several word types (nouns,
verbs, and adjectives), sentence structure, and Arabic verb tenses. Also, you will discover the rules for the three main cases (nominative, accusative, and genitive) employed in Arabic
grammar. Word order, pronunciation, and spelling are a few additional crucial grammar subjects
that will be covered throughout the course. You will have a strong foundation in Arabic grammar by the end of the course, allowing you to read, write, and speak Arabic more accurately and
fluently.
Importance of Online Arabic conversation Classes
● This course helps you with Quran and Hadith interpretation.
● Ability to converse in Arabic like a native
● Understanding Arabic grammar and its application
● Building a multilingual personality that can help you enjoy your trips in Arabic countries. ● Reading Tafseer books, magazines, newspapers, and other Arabic scriptures
● Making Quran recitation and Memorization easy
Benefits of Online Arabic conversation for beginners Classes with Us
✓ Learn an Intensive Arabic conversation course online from an Arabic online tutor who speaks English fluently too
✓ Learn Arabic from the native Arabic tutors from your home and at your schedule
✓ Learn Arabic online or select any specific course type that you want to learn. Also, get customized study and class plans just for yourself.
✓ Enjoy the benefit of free trial classes
✓ Learn with innumerable study materials such as Arabic books, Arabic newspapers online, activity books, printable worksheets, videos, audios, slideshows, presentations, and more
✓ Weekly tests, quizzes, educational games, and competitions
✓ Completion certificates and virtual badges of excellence
✓ affordable fee structure and 24×7 support
What You Will Learn:
● Basic arabic conversation as well as Advanced Arabic course
● Arabic Grammar
● Conversational Arabic classes online
● Quranic Arabic
● Modern Standard Arabic
Ehsan Academy has the best Arabic online course as it offers multiple courses that can meet your needs. Now learn from an Arabic online tutor and learn Arabic conversation in the right way. Enroll for the free trial classes now!